Electrical Horizontal Slurry sand pump
Naipu® factory of slurry pump , gravel sand pump , dredging pump and spare parts.
NaiPu Main products
1. AH , AHF,Horizontal Slurry Pump
2. SP Vertical sump pump
3. ZJQ Submersible slurry pump
4. G Horizontal sand gravel pump
5. ZJQ Submersible sand pump
6. WS Dredging pump
7. AF Froth Pump
8. TL(R) Desulphurization Pump
8.Clean Water Pump
9. OEM Casting machinery parts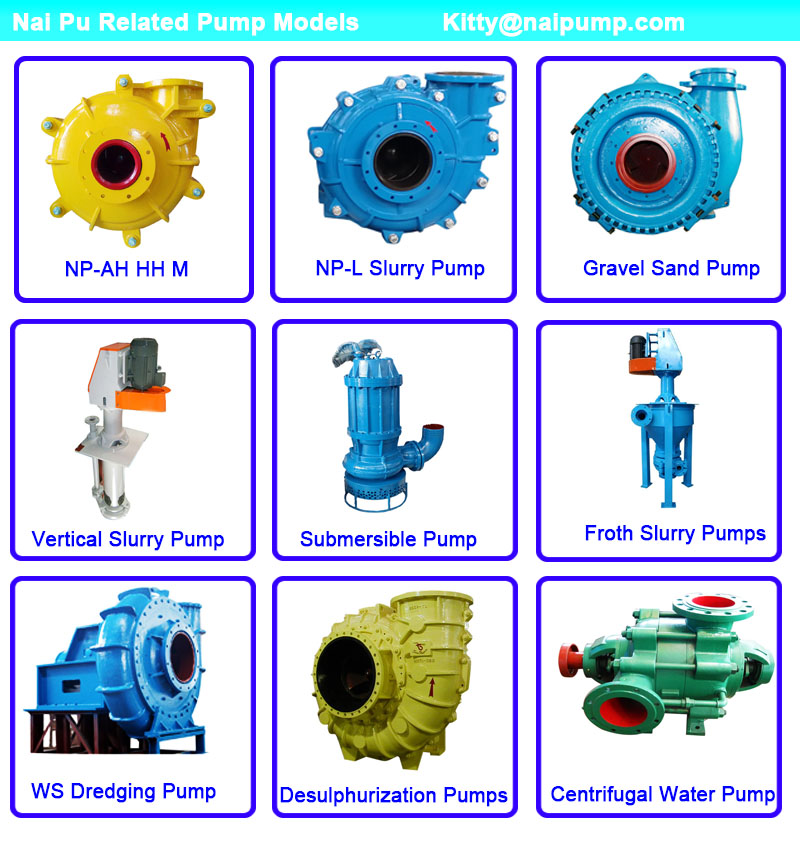 Application
Naipu® Slurry Sand Pumps are used for handing strong abrasive, high density slurries and low density, high head slurries in the metallurgical, mining, coal, power, building material and other industrial departments etc.
For example: Coal washery processing, handling with the fine ore and tailings in metal mine, handing combined bottom and fly ash in a thermal power station.
Industries
· Iron & Steel
· Cement
· Sand & Gravel
· Mineral Sands
· Sugar and Raw Foodstuffs
· Chemical Slurry
· Mining Industry
· - Coal
· - Diamond
· - Aluminium
· - Gold
· - Platinum
· - Phosphate
· - Copper
· - Zinc
· - Iron Ore
· - Pulp & Paper
Main Naipu Slurry Sand Pumps Model
Metal Liner
Heavy Duty S
lurry
P
ump AH TYPE
1.5/1B-AH 2/1.5B-AH 3/2C-AH 3/2CC-AH 4/3C-AH 4/3CC-AH 4/3D-AH 4/3DD-AH 6/4D-AH 6/4DD-AH 6/4E-AH 6/4EE-AH 8/6E-AH 8/6EE-AH 8/6F-AH 8/6FF-AH 8/6R-AH 10/8ST-AH 10/8F-AH 10/8FF-AH 12/10ST-AH 12/10G-AH 12/10F-AH 12/10FF-AH 14/12ST-AH 14/12G-AH 14/12FF-AH 14/12F-AH 16/14TU-AH 20/18TV-AH
Rubber Liner Heavy Duty Slurry Pump AH TYPE
1.5/1B-AHR 2/1.5B-AHR 3/2C-AHR 3/2CC-AHR 4/3C-AHR 4/3CC-AHR 4/3D-AHR 4/3DD-AHR 6/4D-AHR 6/4DD-AHR 6/4E-AHR 6/4EE-AHR 8/6E-AHR 8/6EE-AHR 8/6F-AHR 8/6FF-AHR 8/6R-AHR 10/8F-AHR 10/8X-AHR 12/10ST-AHR 14/12ST-AHR 16/14TU-AHR
Metal Liner Vertical Slurry Pump SP TYPE
40PV-SP 65QV-SP 100RV-SP 150SV-SP 200SV-SP 250SV-SP
Rubber Liner Vertical Slurry Pump SP TYPE
40PV-SPR 65QV-SPR 100RV-SPR 150SV-SPR 200SV-SPR
Metal Liner High Head slurry pump HH TYPE
1.5/1C-HH 3/2D-HH 3/2DD-HH 4/3E-HH 4/3EE-HH 6/4F-HH 6/4FF-HH 6/4x- HH 6S-H 8/6S-H 8/6X-H 6S-HP 8/6S-HP 8/6X-HP
Metal Liner (Rubber Liner)Slurry Pump M TYPE
10/8E-M(R) 10/8R-M(R)
Metal Liner (Rubber Liner)Frothy Slurry Pump AF TYPE
2QV-AF(R) 3QV-AF(R) 6SV-AF(R) 8SV-AF(R)
Metal Liner Gravel Pump G TYPE
6/4D-G 6/4DD-G 6/4E-G 8/6E-G 8/6EE-G 10/8F-G 10/8FF-G 10/8S-G 12/10F-G 12/10FF-G 12/10G-G 14/12F-G 14/12FF-G 14/12G-G 10/8S-GH 10/8F-GH 10/8FF
-GH 12/10G-GH 12/10F-GH 12/10FF-GH
14/12G-G 14/12T-G 18/16 T-G
Metal Liner (Rubber Liner ) Slurry Pump L TYPE
20A-L 50B-L 50B-LR 75C-L 100D-L 150E-L 300S-L
Welcome to contact me for more.